Conference calls application is a free Windows Phone 8 app for dialing into conference or bridge calls by a single click. The application provides an option to store conference call participant code and host code. It provides an option for dialing in the conference as host or participant when both the codes are available. It is designed to be used for single click when you are multi tasking like driving a car. 

The application can dial in, in one click for the conference which have the following format:
Dial In: 8884263333
Passcode: 888888# or 999999*
Checkout Conference Calls v2.0 from Windows Phone store by clicking the below link


How it works
The application dials in directly into the conference by dialing pause characters between the conference number and the host or participant code. This way it keep you from worrying about dialing in the number and waiting for the prompt to push the host or participant code.

For frequently used conference, there is also an option to pin a conference to start screen. Just long hold a conference and pin it to start screen. Once pinned to start screen, dial into your conference just by tapping the live tile on start screen.
Enhanced Features
With conference calls v2.0 enhanced features can be purchased  which unlocks new features of the application. All the below features can be unlocked by purchasing a product for just $0.99 or equivalent in your country.

Each of the enhanced features are discussed in detail below:
Voice commands
Voice commands lets you dial into your conference even without opening the App. Just long hold the windows start button and say your command. The command is of the following format:
Conference In <Conference Name> [as <host|participant>]
where:
<Conference Name> is the name of the conference you would want to dial in. This is mandatory
[as <host|participant>] is an optional input. If you only have host or participant saved. It will dial in automatically. If you have both saved, you need to say 'as host' or 'as participant'. If the optional parameter is not provided but there is both host and participant available, the application will request you to say host or participant as in the below screenshot.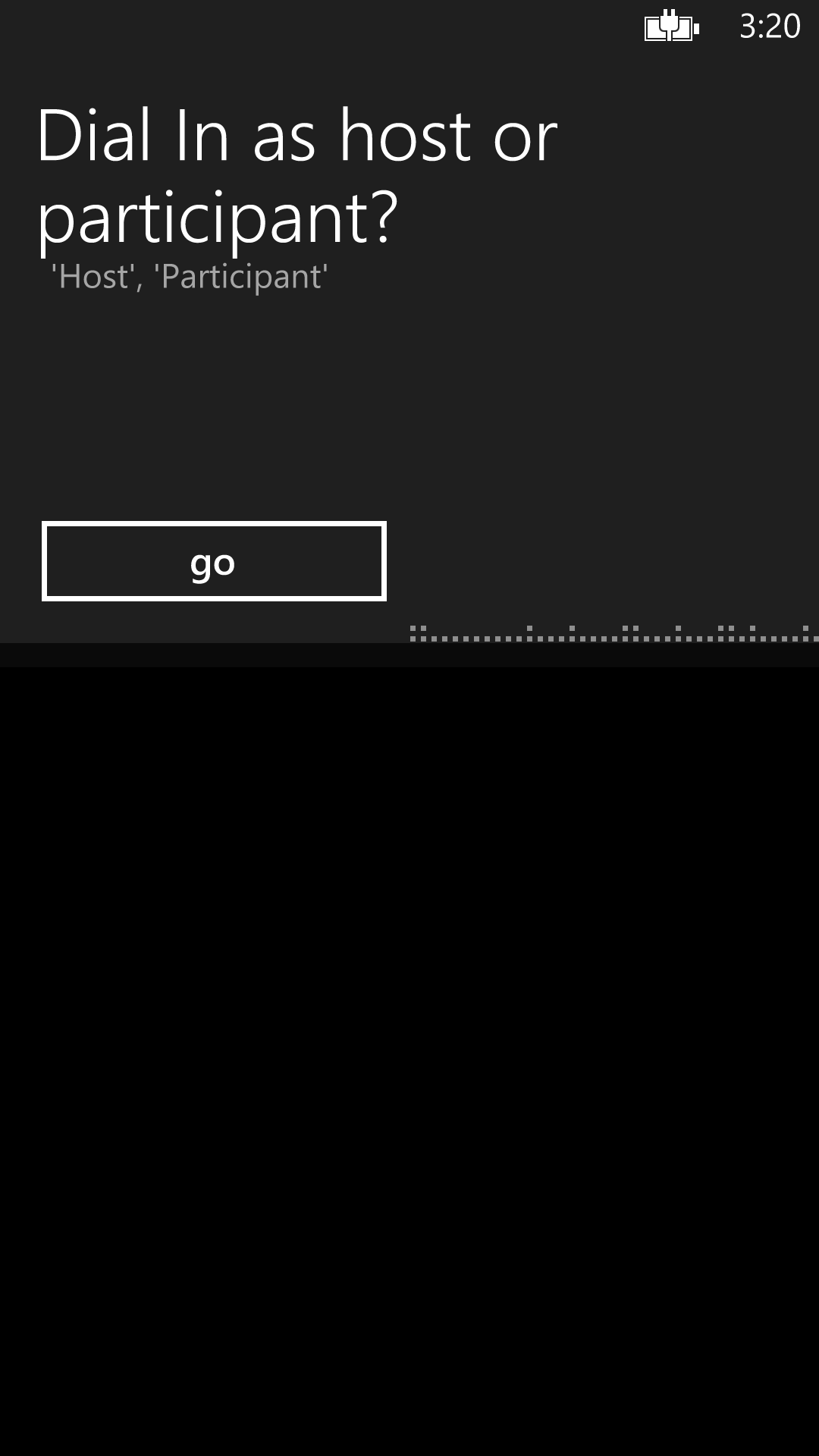 If the optional parameter is wrongly provided, say  a conference has host but you say 'as participant', the application will prompt for correction as per the below screenshot.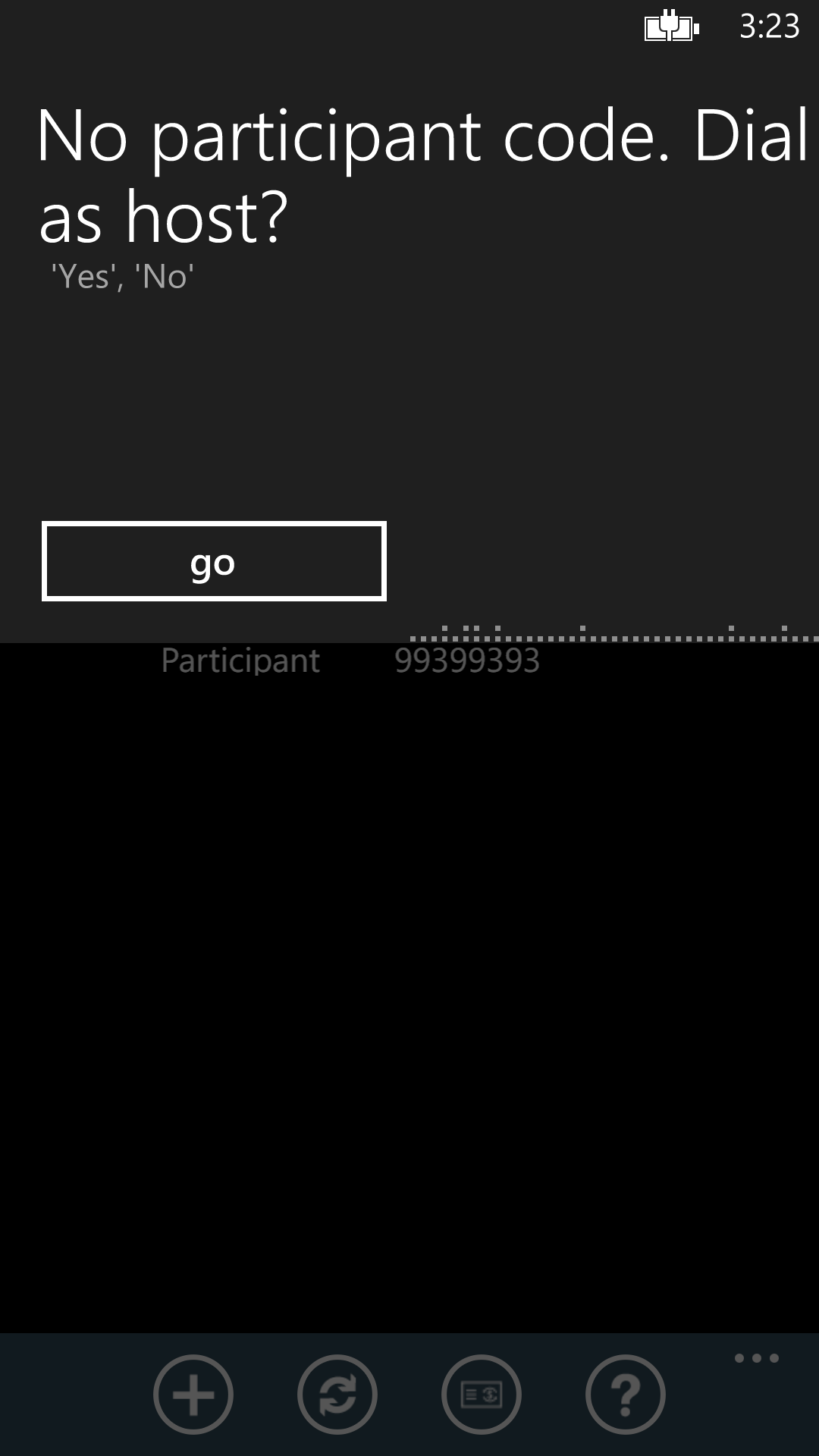 Example:
Conference In <John's Bridge>
Conference In <Matt's Bridge> [as <host>]
Back up & restore data
This feature lets you back up your conference information to your SkyDrive account and restore it whenever needed. This is very useful when you are using multiple windows phone or performing a factory reset of the phone.

Once you login with SkyDrive account you will see the following screen: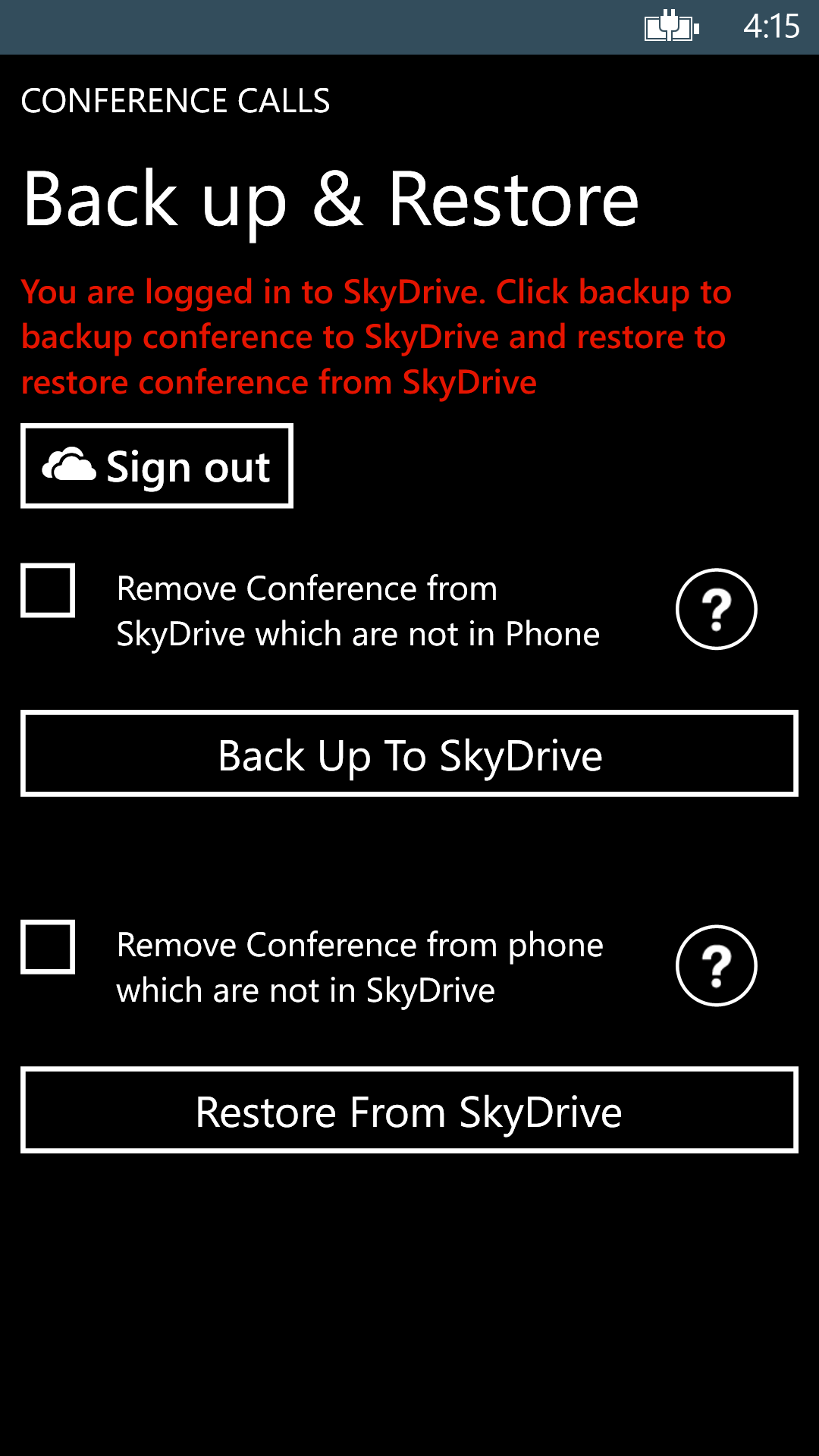 The backup option generates a file in your SkyDrive, while the restore downloads the backup file from your SkyDrive and adds the content into your conference list in the application.

The checkbox options in the backup and restore screen needs to be used cautiously. The 'remove conference from SkyDrive which are not on phone', removes any previously saved conference in your SkyDrive but not currently in your phone. This helps when you have old conference in SkyDrive which you are not using any more and which you want to remove. Once the old conference is removed from SkyDrive, they cannot be restored.

Similary, the 'remove conference from phone which are not in SkyDrive', will just copy all the conference from SkyDrive to your phone. Any conference in your phone which is not in SkyDrive will be deleted. Once the conference in the phone is deleted they cannot be restored. 
Remove In App Advertisements
Removes the advertisements displayed through out the application.